Herd Sires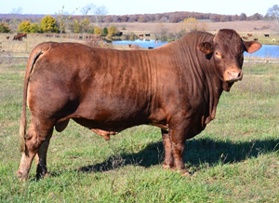 Total Impact is a WPR's The Total Package son who combines his proven pedigree, impressive performance, eye appeal and solid conformation in on TOTAL IMPACT package!
WPR'S 0804 - (also called Max) is a very nice big boned and muscled bull. We bought him as a yearling bull and he has produced some really nice replacement bulls and heifers. 90% of the time his calves have been either polled or scurred. His disposition has really been seen through his calves.
Lasater 8206 - (also called Snoopy) is a long lean bull that we purchased from the Lasater Bull sale in 2010.
He has proven himself for the last 4 years of producing outstanding calves.
More information View Video
St. Clairs WW07

Id # WW07
BBU Certificate # C987806
DOB 7/4/2009
More information