Total Impact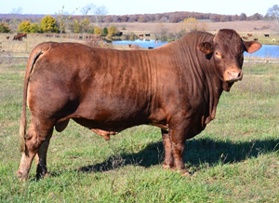 Total Impact is a WPR's The Total Package son who combines his proven pedigree, impressive performance, eye appeal and solid conformation in on TOTAL IMPACT package!
Total Impact was the 2011 Bull Champion at the Ozark Empire Fair, 2012 Ozark & Heart of America Sale High Selling Bull and the 2013 SEBBA National Bull Championship Senior Class Champion.
Date of Birth: 10/17/2010 BBU#C1000229
Classified U Conf 1 - U/L 1
Total Impact's first calf crop will be born fall of 2014.
A.I. Available: Semen is $50.00/straw or discount prices for volume buying.
Call 417-876-7285 for more information
Pedigree >PDF format
Pedigree
Additional Photos
EPDs & Performance
View Video
L Bar 0422
L Bar 7499
L Bar 7430
WPR's The Total Package
*L Bar 3420
Multiple
L Bar 1467
Aviator
** Black Magic
My Choice
WPR's Baby's Got Back
Ford 4622
The Rock
Royal Tapestry
EPDs and Performance
| | | | | | | |
| --- | --- | --- | --- | --- | --- | --- |
| | BW | WW | YW | MILK | TM | SC |
| EPD | -1.4 | 39 | 51 | 5 | 24 | 1.2 |
| ACC | .33 | .41 | .36 | .12 | - | .24 |
| Ratio | 100 | 109 | 100 | | | |
| Contmp | 1 | 3 | 1 | | | |
| Adj. Trait | 68 | 886 | 1296 | | | |
| | REA | %IMF | Rib FAT | Rump FAT | Scrotal | |
| EPD | 0.13 | 0.0 | -0.2 | 0.01 | | |
| ACC | PE | PE | PE | PE | | |
| Ratio | 94 | 54 | 111 | 109 | | |
| Contmp | 2 | 2 | 2 | 2 | | |
| Adj. Trait | 14.09 | 0.89 | 0.21 | 0.24 | 41.07 | |